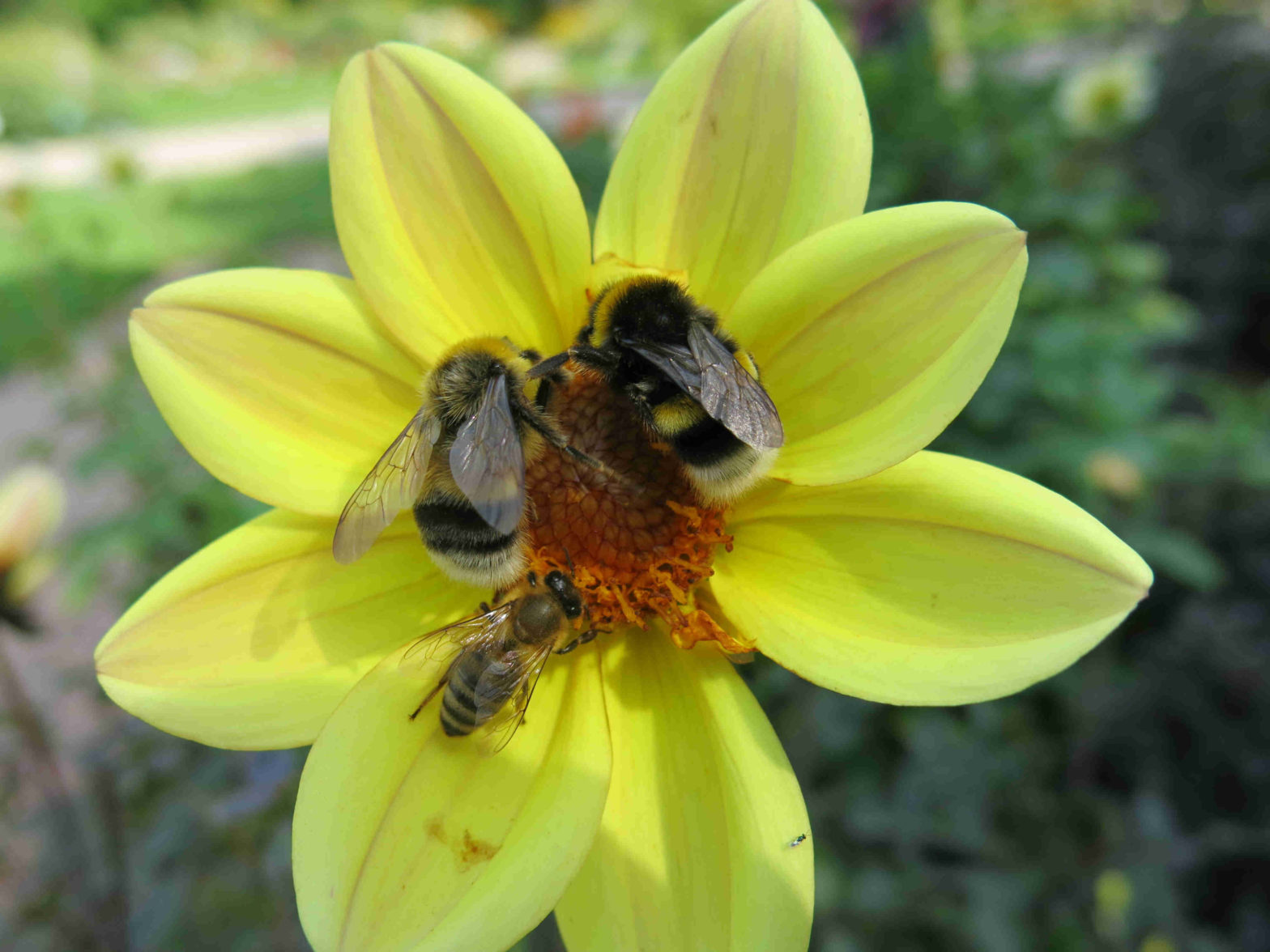 Healthy bees – how do you define them? My approach has changed over the years. First, I was interested in single bee diseases, or more precisely, the impact of parasites on bees. With experience, it turned into a more complex approach, acknowledging connections. Over the years, I began to include also aspects that aren't related to bee health at first glance. But let's begin from the start.
Honey bee diseases – impacts on various levels
Bee health, in my opinion, often gets a too narrow definition. In the worst case, it's handled as the absence of diseases. Maybe also the absence of intoxications. It's mostly limited to the health of managed honey bees. In my opinion, this isn't a good characterisation. It's too focussed on the detail, losing track of the whole picture.
Let's take a look at bee diseases. Obviously, we know most about honey bees, namely Apis mellifera, the European Honey Bee, now managed all over the world. Even in this case, the situation isn't completely clear though. In most books, you will find a division into diseases of adult bees and those of the brood. This classification relies on the clinical symptoms, not on the life cycle of the pathogen or parasite. Varroosis, for instance, is mostly considered a brood disease. The causing parasitic varroa mite reproduces in the capped brood. But is it really a brood disease considering that the adult bees still suffer the consequences? And the whole colony does in the end?
Parasitized larvae develop into workers with a shorter life-span. In addition, the mite transmits viruses that show their symptoms in adult bees. The best-known example of this is the Deformed Wing Virus (DWV). It's named after the crippled wings we see in adult bees after the virus replicated in the mite. With high infestation/infection levels, the social structure of the whole colony suffers. Brood disease? Not that much.
From honey bees to other bees
Other than impacting various levels of honey bees (brood, adult bees and the whole colony), varroa mites are also a good example of how a single managed species may impact other insects. Infected honey bee foragers carry DWV with them. They leave virus particles on the flowers. Bumblebees and other bees then pick it up and get infected themselves. "When varroa mites are present, bumblebees have more DWV." Lena Wilfert told me this last year when I interviewed her for a German beekeeping magazine. Though the mite infests only honey bees, it intensifies the viral infection in their colonies. Thus, more virus particles get on the flowers and may infect bumblebees.
We also know that solitary bee species may get DWV, too. But until now, we don't know much about the impacts on the population level. If a solitary bee female hatches with deformed wings, it isn't able to forage and build nests. How's the prevalence in different bee populations? Does it depend on the density of honey bee colonies in an area? In Wilfert's opinion, managed honey bees should stay outside of nature reserves to protect other bee species. The most controversial conclusion of her research.
Bee diseases and habitat
"Generally speaking, we need more habitat for bees. That would be good for all of them." Wilfert closed the interview last year. I couldn't agree more. This also brings in a different aspect: bee nutrition. As I outlined in my last post, bee nutrition is an overarching principle of bee health. Bee diseases develop less harshly if their hosts are well-nourished. Again, we know this from honey bees. It seems sensible that this is true also for other bee species.
Bees need diverse habitats, with flower diversity and enough structures to build their nests in. In addition, diverse pollinator communities (not only bees) support plant diversity and pollination quality in agricultural crops and wild plants.
Did you notice something? Coming from a complex honey bee disease and passing by non-managed bee species, I arrived at crop pollination. What I drew out in a linear form, in reality, is a complex system. Maybe you can visualize it as a net, with varroosis connected with several other factors at different levels. A 3D-net, so-to-speak. This is also more or less how my approach to bee health has changed over the years. From a linear process to a complex system.
One Health – one part stands for the whole system
This is why I like the One Health approach so much. It makes the connection between human health, (managed) animal health and "ecosystemic health". At the moment we see the connection very clearly, due to the pandemic we're in. Covid-19 is a zoonosis, a spill-over from wild animals to humans. It's connected to biodiversity and habitat loss, to not respecting ecosystemic health. It could have started anywhere, despite the messages some leaders of large countries are sending. I just hope we learn the lesson.
You may wonder how I got from bee diseases to Covid-19. Well, this isn't that disconnected as you might think. Bee diseases are another element in the 3D-net I talked about. A part of ecosystemic health. In case of problems, you have to zoom in to identify the problem and a possible solution. Then do the work and zoom out to look at the whole system again. Figure out what else could have an influence, go back in. Step by step, understanding the system. This is an approach that takes time. It's why science takes time. And why the solution may seem simple at the end, but the way to get it is a dynamic process.
Using the systemic approach for bee health
I use this approach in my work. What I want to stand for is bee health in a broader sense, though I'm often in the "zoomed-in" state. I help to develop varroa treatments, and at the same time, I teach beekeepers that treating their colonies helps also other insects. I also teach vets to consider the superorganism honey bee colony and to not forget the transmission of honey bee diseases to wild insects. Zoom in – zoom out.
In agricultural studies, I monitor that the effects of pesticides are assessed correctly. On the other hand, I promote the creation of bee habitat to enhance bee nutrition and mitigate the effects of intense agriculture and bee diseases. Zoom in, zoom out. Things are connected, not isolated from each other.
Finally, in science communication, I try to show the nuances. I do it in this blog, in my talks and courses. My frequent answer "it depends" may be frustrating at first, but I'm convinced that making complexity accessible is better than simplifying. I love helping people to perceive the nuances, see the greys and the colours beyond black and white. The world is more interesting this way, I believe. Healthier, too.
So, if you agree with this and want to know more about working with me, write me a comment on this post or contact me by email. I'll be happy to figure out together with you how this approach could serve you.